عرض بوربوينت انجليزي Super Goal 6 Unit 5 Form Meaning and Function ثالث متوسط أ. أسماء المجلاد
Making Choices
Form meaning and function
By Asma Almjlad
Objectives
12 Form Meaning and Function

| | |
| --- | --- |
| | |
| If I had A million SR. | I would buy a house |
| | |
| --- | --- |
| Main clause | if-clause |
| I would be a doctor | If I went to the university |
| Would +inf | simple past |
| she would buy the camera | If she had a money |
| Would +inf | simple past |
| ,he wouldn't lost | If he checked the map |
| Would +inf | simple past |
| I would order pizza | If I were (was) you |
| Would +inf | simple past |
Write a mind map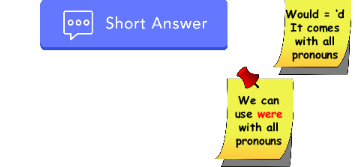 If I were you , I 'd …….football.
A- play
B- plays
C- playing
If I …….a time , I would help you
A- have
B- has
C- had
| | |
| --- | --- |
| | |
| I don't have a car | I Wish I had a car |
| | |
| --- | --- |
| | |
| We don't have a lot of money | I wish I were rich |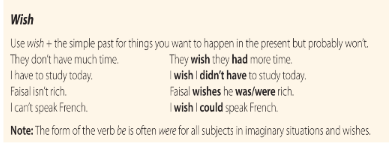 Present ------past simple
I am not tall
I wish I were taller
We can use were with all pronouns
Find the fib
I don't play sports . I wish I play sports
Find the fib
I wish we was in Paris now
A. Match the sentence parts
a. thered be less traffic

b. hed in good shape

c. id visit New zealand

d. Id miss my friends

e. hed apply for the job

f. thered be less pollution

d. if my family had to move to another city

f. if everyone cared for the envionment

e. if he had more work experience

a. if people took the bus more often

b. if he worked out at the gym every day

c. if i could travel anywhere in the world
? B. Discuss the following situations with a partner . What would you do
1- You have more free time to do some thing you really enjoy
2- You were give a scholarship to study at the college of your choice
3- You lent a good friend some mony but he / she didint return it
4- You are a conservtionist asked you to help him / her cheat on an important test
c. Write two sentences with wish for things that each person wants
1- Trevor has to wake up earty for work He can never gel enough sleep
Trevor wishes he didn't have to wake up early. He wishes he could get more sleep.
2- You dont feel well . so you cant hang out with your friends today
. I wish I felt better. I wish I could hang out with my friends tod
3- There is so much poilution We more people to care for the enviroment
We wish there wasn't so much pollution. We wish more people cared for the environment.
4- You want to buy a new laptop but you dont have enough mony
5- Afriend asks Ali to go surifing . He cant go because he doesnt Know how to surf