عرض بوربوينت انجليزي Super Goal 6 Unit 5 Grammar ثالث متوسط أ. أسماء المجلاد
Making Choices
Grammar
By Asma Almjlad
objectives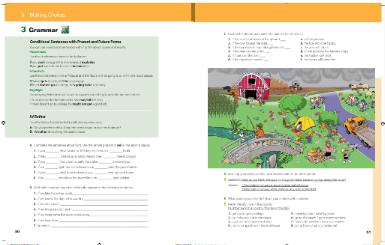 Grammar3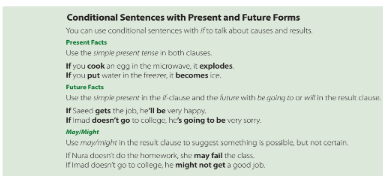 Present facts
| | |
| --- | --- |
| It boils . | If you heat the water to 100 C , |
| Present simple | Present simple |
| | |
Facts which are generally true or scientific facts
if you cook an egg in the microwave, it explodes
Present simple Present simple
If you heat the ice , it melts
Present simple Present simple
future facts
A possible situation in the future
| | |
| --- | --- |
| Result clause | If clause |
| I will cancel the trip | If it rains . |
| Future simple | Present simple |
| I will go to the park | If it is sunny. |
| Future simple | Present simple |
| You will pass the exam | If you study . |
| Future simple | Present simple |
If it is 2030

May might
to suggest something is possible but not certain
He may make a party

If he gets promoted

Present simple

she may stay at home

If Sara is sick

Present simple

I may watch TV

If I stay at home

Present simple
!PRACTICE MAKES PERFECT
A. Complete the sentences about facts. Use the simple present or will in the second clause.
1- If you heat (heat) water to 100 degsius it boils (boil)
2- If they climb (climb) up to 4.000 meters they will need (need) oxygen
3- If you Dont cross (not cross) its oath the snake want bite (not bite) you
4- If we get (get) this HD television we will see (see) the game better
5- If you mix (mix) flour and water you end up (end up) with batter
6- If he Dont obey (not obey) the speed limit he will get (get)a ticket
B. Work with a partner. Say what will/might happen in the following situations.
1. …………………………If we take the scenic route
2………………………….. If we spend the day in the country,
3. …………………………If we rent a boat
4………………………. If we bring a picnic lunch
5. ……………………..If we invite some friends to come along
6……………………… If we have time
7. …………………….Your idea

I 'd rather read a book than watch TV
Verb - inf
I 'd rather play football than play tennis
Verb - inf
Find the fib
If we have a time , we may goes to the mall
If we have a time , we may go to the mall
Find the fib
If I wake up late , I will missing the bus
If I wake up late , I will miss the bus
Find the fib
If I am late for dinner , they starts eating without me
If I am late for dinner , they start eating without me