عرض بوربوينت انجليزي Super Goal 6 Unit 3 Listen and Discuss ثالث متوسط أ. أسماء المجلاد
All kinds Of people
Listen and discuss
Objectives
Compare situations to personality and character
Describe activities
Give impressions according to place
سورة الحجرات
بِسْمِ اللَّهِ الرَّحْمَنِ الرَّحِيمِ
(( يَا أَيُّهَا النَّاسُ إِنَّا خَلَقْنَاكُمْ مِنْ ذَكَرٍ وَأُنْثَى وَجَعَلْنَاكُمْ شُعُوبًا وَقَبَائِلَ لِتَعَارَفُوا إِنَّ أَكْرَمَكُمْ عِنْدَ اللَّهِ أَتْقَاكُمْ إِنَّ اللَّهَ عَلِيمٌ خَبِيرٌ (13) ))
! WARM UP
Look at the picture in 1 minute . Then write down a list of things you saw in the street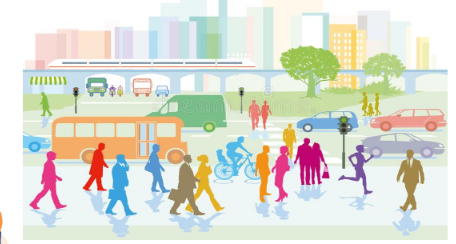 ? What was she doing
She was talking on the phone

while

she was cooking
?What was he doing
He was studying

when

I spoke
? What were they doing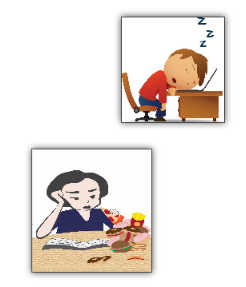 | | |
| --- | --- |
| ? Were you watching TV while you were eating breakfast | Was it sunny when you were coming to school |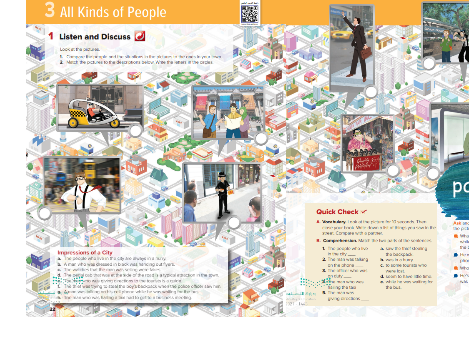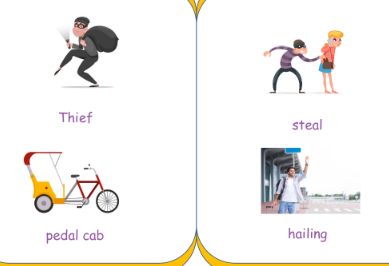 ? How can you go to restaurant , garden or a hotel in new town

? What is the strangest mean do you try it

? If you are a tourist ,what a different kind of way to see the area

? Have you ever seen a pedal cab in real
? How do you Know the person is tourists

the man who was giving directions to the tourists is their teacher
The man in black is handing flyers

? What is the man in black handing out
? Do you think that people who live in the city are always in a hurry? Why

? Was this man in a hurry
? is there any police in the area

? How do you know he's a police officer

? What is the thief trying to steal
? What is the man in the suit trying to do

? is he a student
? How can you go to school

? Can you take the bus if you live in this neighborhood

? How do you know
? Who is this man

?? What kind of things can you buy on the street if you don't want go into store

? Do they look like good watches

? Are they fake
Quick Check
A. Vocabulary . Look at the picture for 10 seconds . Then close your book . Write down a list of things you saw in the street Compare with a partene

B. Comprehension . Match the two parts of the sentences
a. saw the thief stealing the backpack

b.was in a hurry

c. to some tourists who were lost

d. seem to have little time

e. while he was waiting for the bus

1-the people who live in the city

2- The man was talking on the phone

3-The officer who was on duty

4- The man who was hailing the taxi

5- The man was giving directions
? What do you think Fake means
Real ≠ fake
The people who ……live in the city
Was in a hurry
Had a lot of free time
The man who giving directions
Is a guide
Is a teacher
The officer who was on ……duty
Saw the thief
Was hungry
Quick Check
A. Vocabulary . Look at the picture for 10 seconds . Then close your book . Write down a list of things you saw in the street Compare with a partene

B. Comprehension . Match the two parts of the sentences
a. saw the thief stealing the backpack

b.was in a hurry

c. to some tourists who were lost

d. seem to have little time

e. while he was waiting for the bus

1-the people who live in the city (d)

2- The man was talking on the phone (e)

3-The officer who was on duty ( a)

4- The man who was hailing the taxi(b)

5- The man was giving directions (c)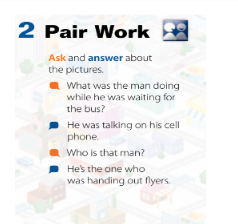 Work book
A. Look at the photos. Complete the sentences. Use the words and expressions in the box.
Pedalcab - taxi - thief - fake - steal - tourist - in a hurry - give directions
I visited my brother in New York City two weeks ago. We were walking downtown on a rainy day when I took this photo.
Even in the rain, some people prefer to take a (1) pedal cab because it's more environmentally-friendly and less expensive than a (2) taxi.
I was shopping at Manhattan mall when I saw a man (3) steal a shirt.
I wasn't the only one who saw him do this. The security guard in the store saw him, too.
Fortunately for the store, the man who tried to take the shirt without paying isn't a good (4) thief.
My brother loves life in New York City. But my brother has changed since he moved there. He talks faster. He walks faster. He's always (5) in ahurry.
When I was visiting him, a (6) tourist stopped us and said he was lost.
My brother looked at his watch and then looked at the man. Then he said, ''I don't have time to (7) give directions to you. Sorry.''
Can you tell which of these watches is real? My brother can't. He was really late for a meeting the other day. At first, he didn't understand why.
He looked at his watch and he actually should have been 15 minutes early, not a half hour late. Then he realized what was wrong.
His watch wasn't working. He was mad, but not because he was late for the meeting. He was mad because his broken watch that cost $300 was really a (8) fake.
I told him to buy his next watch in a store and not from a man on a street corner.
B. Complete the definitions. Use the words in the box from A.
1. Someone who is late for school is going to be in a hurry.
2. A watch that looks like a well-known brand but costs a lot less is probably a fake.
3. A person who steals things from others is a thief.
4. A person who is visiting a place on vacation is a tourist.