عرض بوربوينت للوحدة الثانية عشرة (قسم 3) انجليزي Super Goal 1 أول متوسط أ. نادية الغامدي
Unit 12
? What can you do there
Conversation & Reading
COVID 19

1- ! Avoid gathering
2- wear a mask before going out
3- !Social distancing is not a choice, it is a must
4- Keep a distance of 2 meters to avoid accountability
5- Wash hands constantly
بسم الله الرحمن الرحيم
………………………. : Day
………………………. : Date
Learning Objectives
1. read a conversation correctly
2. practice making a conversation correctly
3. Answer questions about their activities
4. Identify the main idea of reading
5. answer questions after reading about it
Conversation
6Conversation
? Ail : can you play tennis
Imad :Yes I can
? Ali : Do you want to play a match
? Imad : Sure . Whens good for you
? Ali : I prefer the weekend . I have more free time . How about Thursday afternoon
? Imad : Icant . Im buse . How about Saturday morning
? Ali : Good idea . what time
Imad : Eight Oclock
Ali : Eight Oclock
? Ali : Eight oclock on a saturday morning! Are you crazy
Conversation
Reai Talk
? Whens good for you ?= What time is good for you
Are you crazy ? = you re saying somthing I thing is strang
Conversation
? About the Conversation
1- ? Can Imad play tennis
Yes, he can
2- ? Can Imad play on Thursday afternoon
No, he can't.
3- ? When can he play ? What time
He can play on Saturday morning. He can play at eight
4- ? What does Ali think about the time
He thinks that eight o'clock is too early.
Conversation
Your turn
invite your partner to play a game or sport go on an outing etc
…………A-let's
B-Good idea. when
………..A
……….. B:i can't.
? ………..A: how about
…………B:That's
Conversation
7 About you
Do you like sports ? -1
what sports and games can you play ? -2
3- ? how often do you play them
4- ? Do you like to watch sports on tv? which ones
Reading
Before Reading
Look at the title and the headings
Write down worad phrases and ideas connected with each heading
Vocabulary
| | |
| --- | --- |
| | Al Baha |
Vocabulary

Vocabulary
| | |
| --- | --- |
| | Al Uquair |
Vocabulary

Vocabulary
| | |
| --- | --- |
| | Al Ula |
Vocabulary
Reading

Reading
After Reading
1- Compare your ideas in Before Reading with the text
2- Think about what activies you can do in each place . Make notes in the chart
Activities

Place

walk in the mountains

Al Baha

Swim in the sea , fishing, sailing

See the historical sites , camping

AL Uquair

ALUla
Reading
3- ? Which place do you like best? Why
*Share your ideas with aparner and support your opininon
4- Underilne all the examples of present progressive in the text . Why do they use present ?progressive here
Paragraph 2 We are building many hotels
Paragraph 4 We are building and planning places
Paragraph 6 We are developing Al-Uquair
Paragraph 7 At Al-Ula, we are making the
Homework
Page 103
? Whkh of the following aclivites can you do ? Which cant you do
draw - write Stories - make things - ride abike - swim - cook - play golf - skate board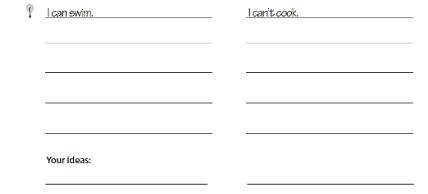 Luke is Wniting a Story for English class Look at the photos . Complete the Story
I have lots of friends . They (Like ) They like to do different things
My friends Potnick and Tony have cell phones . Patirick and Tony have cell phones Patrick ( like ) Likes
To talk on his cell phone Does Tony (Like ) likes to talk on his cell phone ? No he Doesnt Tony (Like ) Likes To take photos
with his cell phone! My friends Ryan (like) Likes to sur . He live in Hawali Hawali and he (can) she can surf every day of the year . Tom lives in my a partment buliding . We live in Arizona there arent any beaches in Arizona There arent any beaches in Arizona . But Tom (Like) Likes to surf every day of the year too How ? He ( can) can surf on the intern etl